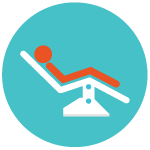 This form of sedation is commonly referred to as "laughing gas". It is great for older children and those who don't have many cavities. It helps with mild anxiety and is very safe.
It can be very difficult for young children to stay still during a dental treatment if they have many cavities. To ensure the procedure is done in a safe manner, we offer oral sedation to make the appointment is easier for your child. The oral sedation is a liquid medication that is safe for children. Your child will stay awake during the appointment but will be very relaxed and drowsy.
Sleep Dentistry & General Anesthesia
General Anesthesia or Sleep Dentistry is what a lot of people call "being put to sleep". General anesthesia may be an option to those who are very young, very fearful and unable to cope with multiple dental appointments. General Anesthesia is provided by an anesthesiologist who specializes in treating children.